Los Angeles's Interior Moulding Masters
Corbels, appliques, onlays, columns & corners
From our 1978 launch in North Hollywood, Moulding Center gave every type of interior moulding product to our clients. Now, from our new Sherman Oaks location, we continue to help Los Angeles residents redesign their homes and offices, floor to ceiling. We have the right products for every space, and our dedication to high-quality customer service makes sure we give you exactly the molds and accessories you want.
Our core product is moulding for every purpose and style. We have crown moulding options for your ceilings, baseboards for your floors, and casing for your doors and windows. We also custom mill pieces from wood or MDF if your style of choice is entirely out of print.
Learn more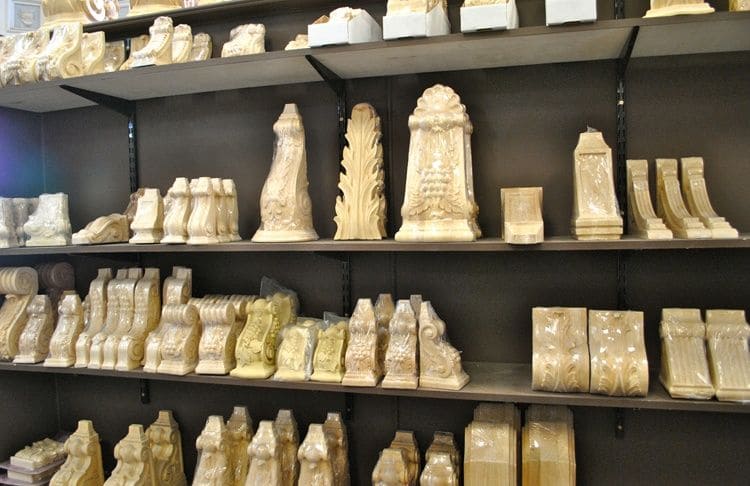 Why choose us?
We sell unique architectural products
A family owned and operated business
Huge selection and variety of mouldings
Delivery service & installation referral service
We offer custom made mouldings
Unique architectural products
Casing and Moulding for Any Living Space
Handrails, brackets & balusters
Moulding Center provides every kind of interior moulding product you can imagine. Our comprehensive inventory begins at casing and moulding and offers much more. We give your home or office the precise appearance you desire, so you don't have to settle for generic solutions from other stores.Moulding Center provides Exterior Moulding and stairway handrails, brackets, and balusters, breathing life and style into your practical spaces. We also sell corbels, appliques, rosettes, and other accessories to liven the most mundane spaces.
We offer faux wood beams as well, which add a rustic or natural tone to a building's greater style. We even sell doors to go with the casing. Whether restoring an old house or creating a new office, our catalog dramatically bolsters the existing beauty and value of the space.
Moulding Center serves as the moulding master for every neighborhood in Los Angeles, including Van Nuys and North Hollywood.
Our products renovate your personal and professional spaces, creating or complimenting the beauty of the area. Call us at our new office to find out how we can best improve your living or work space.
Our Vendors
If you already know what you need, please call or visit us!